Reviews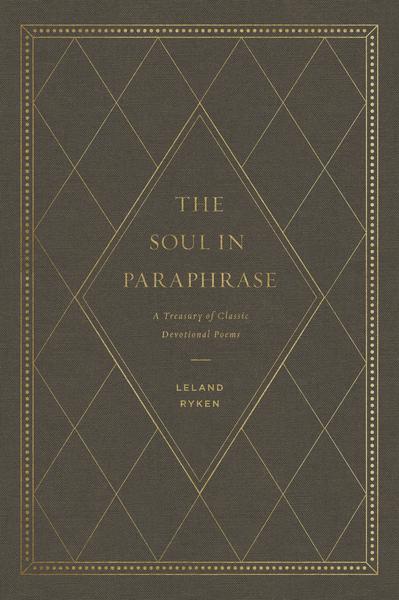 The Soul in Paraphrase: A Treasury of Classic Devotional Poems
Leland Ryken
Reviewed by: Thomas D. Church
Date posted: 07/07/2019
The Soul in Paraphrase: A Treasury of Classic Devotional Poems, by Leland Ryken. Crossway, 2018. Hardcover, 272 pages, $29.75 (Amazon). Reviewed by OP pastor Thomas D. Church.
If you are one of the many who find poetry boring, inaccessible, or altogether dis-interesting this good book might honestly move you to a more generous attitude.
The editor is Leland Ryken, who was for nearly fifty years a professor of English at Wheaton College. He is well qualified to choose and present some ninety devotional poems that are truly penetrating and sweet to the Christian heart.
Two features that follow each poem set this collection apart and will commend it to a wide audience. The first is a short paragraph of notes on selected words found in the poem—some of them archaic or simply not in common use (but many of them should be). This is followed by a brief commentary in which Ryken very skillfully progresses through the text, carefully uncovering the author's meaning and purpose in each piece. This is gold. It draws out the deep spirituality of these beautiful classic poems in a delightful and rewarding manner. You'll find yourself happily rereading many of the poems to see his point, saying to yourself: "Of course! What a blessed, clever thought!"
The poetry is largely from the seventeenth and eighteenth century, with a small collection of nineteenth-century examples. Most are composed by clearly Christian men and women celebrated in English literature. Ryken includes works by William Shakespeare, John Donne, George Herbert, John Milton, John Dryden, Alexander Pope, Christina Rossetti, Anne Bradstreet, and others. If his selections are a little heavy on the metaphysical poets, they are all the more provoking.
The book itself is typeset on thick, almost vellum-like pages, bound in a lovely brown cloth cover, with a red ribbon marker to keep your place as you move through the collection.
Here's a taste: from Robert Herrick (1591–1674), "His Savior's Words, Going to the Cross":
For Christ, your loving Savior, hath

Drunk up the wine of God's fierce wrath;

Only, there's left a little froth.

Less for to taste, than for to show

What bitter cups had been your due,

Had He not drank them up for you.
Give it a chance! These poems are filled with Scripture and will light up Christ in your heart. And if you thirst for more, may I direct you to what I believe to be the very best anthology of Christian poetry available: A Sacrifice of Praise (Cumberland, 2006) by James H. Trott—another treasure for your groaning library shelf.