Reviews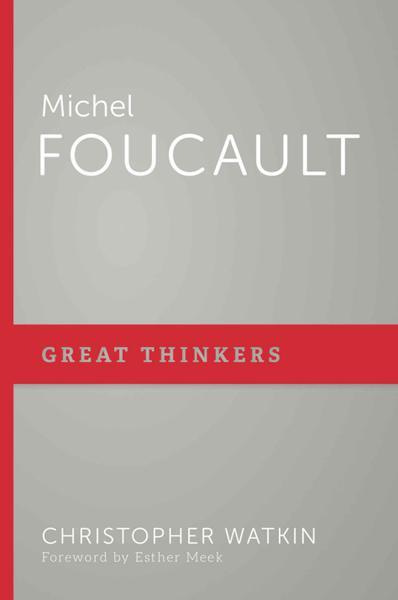 Michel Foucault
Christopher Watkin
Reviewed by: James J. Cassidy
Date posted: 09/01/2019
Michel Foucault, by Christopher Watkin. P&R, 2018. Paperback, 216 pages, $11.50. Reviewed by OP pastor James J. Cassidy.
Have you ever wondered where current trends in feminism and queer theory come from? They preeminently have their academic foundations in Michel Foucault. Dr. Watkin gives us a study on perhaps the most influential thinker of the middle to late twentieth century in this biography, part of P&R's "Great Thinkers" series.
The book is very well written. Watkin has done his homework and we are the beneficiaries of that labor. He also displays a deft ability to explain abstract philosophical concepts. In the first four chapters, he gives us a clear and useful overview of Foucault's thought and writings. The reader is further assisted in this with two appendices (charts containing Foucault's main publications and his periodizations of history), a glossary of key terms and people, a select bibliography (some of the entries are annotated), and indices of Scriptures and subjects/names. This book packs a lot of information for a mere 179 pages!
In the second half of the book, Watkin brings Foucault into conversation with the Bible. This is where I think the book is at its weakest. Admittedly, Watkin is quite upfront that he does not seek to "adjudicate between Foucault and the Bible on the question of truth" (136). Rather, Watkin seeks to offer "an open invitation to dialogue" with the "biblical story of the incarnation, cross, resurrection, and ascension of Jesus Christ" (xxiv–xxv). Further, he argues that Foucault and the Bible "share a set of common concerns and problems to which they offer analogous but distinct responses, and that the Bible's responses tend on the whole to be more complex and multidimensional than Foucault's" (xxiii). He executes that plan in chapters 5 and 6 as he compares Foucault's notion of power structures to Paul's teaching in Philippians 1 and 1 Corinthians 1. The upshot is given to us in chapter 7, where he challenges Foucault's idea of self-transformation of the autonomous self with the biblical idea of "theautonomy," a term Watkin coins to describe the God-human relationship in the identity of transformation (132).
The idea of cruciformity that Watkin outlines is biblically rich. However, has Watkin missed a golden opportunity to put that cruciformity into practice by engaging Foucault more apologetically? The antithesis between the believer and the unbeliever, as it is effected by regeneration, along with the epistemological antithesis between Foucault's narrative of history and the biblical philosophy of history, seems muted at best. Beginning with this antithesis could have led Watkin to offer a transcendental critique of Foucault's thought rather than a mere beginning to an on-going conversation. If the Bible is true, why would we not adjudicate Foucault's thought on the basis of the truth? It seems as if Watkin has let Foucault off the hook too easily. Watkin does, for sure, offer Foucault the gospel. That is clear from chapters 5–7. But he does not offer Foucault a compelling reason to abandon his worldview and to repent of an unbelieving and—ultimately—self-destroying system of thought.