Reviews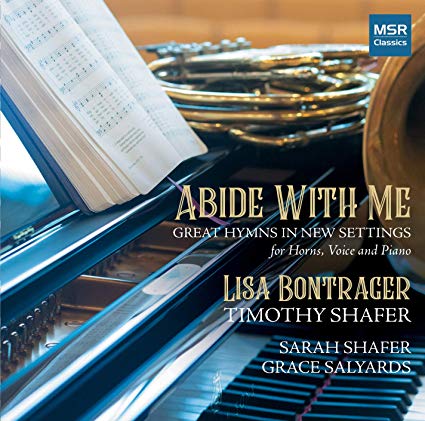 Abide with Me: Great Hymns in New Settings for Horns, Voice and Piano
Lisa Bontrager
Reviewed by: Joel and Janet Bacon
Date posted: 08/04/2019
Abide with Me: Great Hymns in New Settings for Horns, Voice and Piano. Performed by Lisa Bontrager (horn), Timothy Shafer (piano), Sarah Shafer (soprano), and Grace Salyards (horn). Arranged by Paul Basler, et al. MSR Classics, 2018. Audio CD, $12.95. Reviewed by OP members Joel and Janet Bacon.
In this era when Scripture choruses are increasingly becoming the norm in worship and recordings of hymns are likely to be performed by choirs from large English cathedrals, it is refreshing to find a recording like this one, where the focus is on traditional hymns of the faith performed in an unusual way.
Lisa Bontrager is a Distinguished Professor of Music at Penn State University, a soloist and chamber musician performing on the French horn, whose desire is to use her instrument and the great hymns of the church to the glory of God. To that end, she teams up in this recording with her Penn State colleague, pianist Timothy Shafer, and his gifted daughters Sarah Shafer and Grace Salyards to present eight hymns for solo horn and piano, along with six settings which add a second horn and five which include a soprano line.
Bontrager writes in her program notes that she was seeking "fresh, musically sophisticated sounds for familiar and meaningful hymns." She certainly has succeeded! The hymns chosen represent a good mix of styles, ranging from spirituals to Irish melodies, flowing Welsh tunes and a number of standard hymns by American and English composers of the nineteenth and twentieth centuries, plus a nod to the more distant past with a stately arrangement of Old Hundredth from the Genevan Psalter. The six arrangers show a thorough understanding of both the abilities and the limitations of the instruments, and they have produced settings which showcase the musicians without being overtly showy or drawing the focus away from the hymns themselves.
Particularly effective are the arrangements for two horns. The parts balance well and complement each other beautifully. Both players exhibit a mastery of the full range of the instrument. The upper notes are clear and true while the lower notes display none of the flatness or muddiness that the horn can so easily fall prey to in the hands of less experienced players.
Sarah Shafer has a lovely, rich voice, which is displayed at its best in this recording on those tracks where she is singing at full voice in her upper range. When she lets her voice soar, she more than holds her own with the instruments and the balance is right on target. Unfortunately, there are some occasions where she holds back a bit and the effect is one of distance, as if she were down a hallway from the others.
Timothy Shafer seems completely at home with the elaborate, flowing piano parts, supporting where necessary and taking the lead at other times. His prodigious gifts are well used here.
A complete listing of the texts of all of the hymns represented, rather than just those which include the soprano, would have been a good inclusion for those whose knowledge of these more traditional hymns is incomplete but who still wish to use this lovely recording as an aid in meditating on the truths of God contained within those texts.