Reviews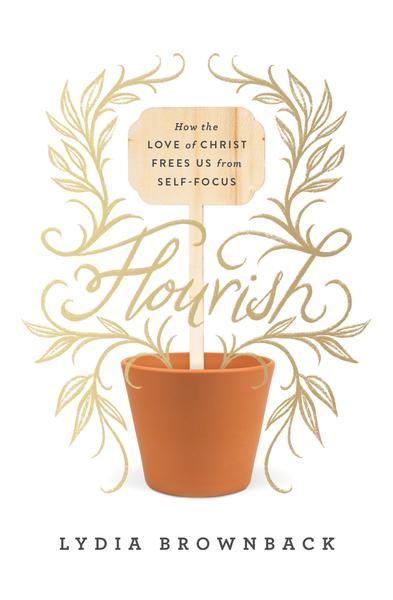 Flourish: How the Love of Christ Frees Us from Self-Focus
Lydia Brownback
Reviewed by: Tiffany Ward
Date posted: 11/10/2019
Flourish: How the Love of Christ Frees Us from Self-Focus, by Lydia Brownback. Crossway, 2019. Paperback, 144 pages, $10.88 (Amazon). Reviewed by OPC member Tiffany Ward.
In an era where Girl, Wash Your Face (Rachel Hollis, 2018) is considered the gold standard for female flourishing, Lydia Brownback's Flourish: How the Love of Christ Frees Us from Self-Focus serves as a timely, necessary tonic. Brownback's goal for the book is to train women "to discern teaching that's pure and true from that which is toxic and false," using Scripture as the standard (13). In just ninety-eight pages, Brownback addresses topics that pervasively impact women: self-consciousness, self-improvement, self-analysis, self-indulgence, self-condemnation, and self-victimization.
She explains: "We cannot assume that material labeled 'Christian' is actually biblical" (23). Instead, Brownback trains the mind for biblical discernment by interacting with popular "Christian" writings to uncover their sub-biblical ideas. She drives the reader away from self-focus both by illustrating the damaging effects of an inwardly oriented life and by pointing the reader to Christ's sufficiency. She reacts strongly against the idea "that Christian discipleship is synonymous with self-improvement" (36) and drives the reader to understand "that in Christ, there is none of that old self left to improve" (39).
Brownback addresses modern topics with a refreshingly analytical eye, such as the self-care movement, remarking that it "often runs counter to the stewardship advocated by Jesus" who taught us to lay down our lives in sacrifice (57). She shows how modern evangelical trends—such as Bible coloring—can "morph into habits of laziness, where we are unwilling to exert ourselves without some pleasurable comfort as an accompaniment" (59). Ultimately, Brownback wants us to see that Jesus did not die in order to maximize our potential; God should be the focal point of our lives, and our greatest source of joy.
However, Brownback appears to mishandle "self-victimization" in chapter 6, repeatedly identifying it with the ongoing struggles of survivors of severe trauma. This is particularly unfortunate because a woman who has been the victim of abuse needs to be told more than that she has an "unwillingness to let go of the past," leading her "to demand coddling" (91). There is an overall sense that many of the topics discussed in this chapter, including addiction and psychotherapy, should not have been treated with such brevity. Perhaps with greater space these ideas could have been sufficiently explored and defended.
Though Flourish does not wade into deep theological waters, it contains meaningful biblical insights throughout. With a built-in, thirty-day study program, this book is remarkably accessible and would be well suited for discipleship of new believers or believers new to the Reformed faith. This book functions as a primer in discernment and presents a countercultural message relevant to all people: that we can never be fulfilled in ourselves, but that true flourishing comes with finding our identity in Christ, resting in his finished work, and delighting in who he is.