Reviews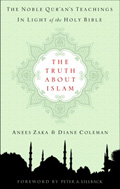 The Truth About Islam: The Noble Qur'an's Teaching in Light of the Holy Bible
Anees Zaka and Diane Coleman
Reviewed by: Joseph Keller
Date posted: 08/20/2006
The Truth About Islam: The Noble Qur' an s Teachings in Light of the Holy Bible, by Anees Zaka and Diane Coleman. Published by P&R Publishing, 2004. Paperback, 224 pages, list price $11.99. Reviewed by Pastor Joseph Keller.
Dr. Anees Zaka is the founder and director of Church Without Walls (a ministry of the Presbyterian Church in America) and founder and president of the Biblical Institute for Islamic Studies. He has done extensive research on Islam and has spent many years ministering to Muslims both in North America and overseas. With the help of Diane Coleman, he has provided us with a book that clearly defines and contrasts the differences between Islam and biblical Christianity.
The authors labor to avoid offense to Muslims who may read the book, but there is no compromise of the biblical faith. The Bible is set forth from the very beginning as the standard of all truth and Islam is evaluated in the light of it.
Chapter 1 explains that truth is revealed through Jesus Christ. Chapter 2 shows that the Muslim attempt to establish Muhammad as a "prophet like Moses" fails. Chapter 3 shows that Islam claims Jesus Christ as a prophet, yet rejects the biblical teaching about him.
Chapter 4 has strong apologetic value. To the Islamic claim that the Bible has been corrupted, Dr. Zaka invites Muslims to examine the massive evidence for its careful preservation. He points out that Muslims should not be afraid to examine the Bible, for Islam "exhorts readers to believe in previous revelation (Sura 2: 136; 4: 163)," i.e., the Bible (p. 80). And he concludes with a powerful argument that the Qur'an's claims to set forth the truth of the "previous Scriptures" is in error, for the teachings of the Qur'an and the Bible are very different from beginning to end.
Chapter 5 shows that the Muslim god Allah is impersonal, unknowable, unloving, and even deceitful and inconsistent. But the biblical God is true and good in every way.
Chapter 6 shows that Islamic law is an external political law that is powerless to change the internal desires of people. But the Bible sets forth the need for internal law. The regenerating work of Christ produces a submission to God's law in the will of his people.
Finally, chapter 7 provides helpful biblical guidelines for presenting the gospel to Muslims and others.
While this book does not provide an in-depth examination of Islam, it does provide a very helpful understanding of it. It could easily be used in an adult - or even youth - Sunday school class. The book spends much time setting forth the gospel in a thoroughly biblical, Reformed, and appealing way.