Reviews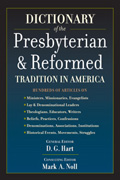 Dictionary of the Presbyterian and Reformed Tradition in America
D. G. Hart and Mark A. Noll
Reviewed by: Danny E. Olinger
Date posted: 12/24/2006
Dictionary of the Presbyterian and Reformed Tradition in America, edited by D. G. Hart and Mark A. Noll. Published by P&R Publishing, 2005. Paperback, 286 pages, list price $16.99. Reviewed by editor Danny E. Olinger.
This volume, first published in 1999 and recently reissued, was edited by OP elder D. G. Hart and church historian Mark Noll. It provides a fuller treatment of the Reformed and Presbyterian tradition in the United States and Canada than its companion volume and predecessor, Dictionary of Christianity in America, was able to do. The entries mainly cover Presbyterian and Reformed denominations and individuals, although thematic essays have been sprinkled throughout the book. The editors' introductory essay, "The Presbyterians: A People, a History and an Identity," surveys the Presbyterian and Reformed world from the Reformation to the present. Readers are informed that, although there are some differences in regard to confessional standards and church government, the chief difference between Presbyterian and Reformed is geographical. Hart and Noll write, "Calvinist churches in Great Britain have been designated by the term Presbyterian; like-minded communions on the Continent have gone by the word Reformed" (p. xviii). Those who called themselves Reformed used that word as shorthand "for the phrase that the church must 'always be reforming itself according to the Word of God' "(p. xxvii). Those who called themselves Presbyterian believed that authority in the church was supposed to be spread out "to all presbyters, including ministers and ordained laity (elders)" (p. xxvii).
The editors state that "much of the history of the Presbyterian and Reformed tradition in the twentieth century can be told around the theme of ecumenism versus sectarianism, that is, of Presbyterians and Reformed willing to cooperate with non-Calvinists for broader purposes and those opposed to cooperation because of theological convictions and ecclesiastical practices" (p. xxv). This tension between ecumenism and sectarianism is briefly spelled out in the accounts of the struggles that resulted in the formation of such denominations as the OPC and the PCA (Presbyterian) and the RCUS (Reformed).
Among the entries are such Orthodox Presbyterians as C. Van Til, J. Murray, N. B. Stonehouse, J. Gresham Machen, R. B. Kuiper, and E. J. Young. The typical entry is around 400-500 words. The biographical information on each individual is simple and straightforward. Significant events are summarized, while interpretive statements are kept to a sentence or two. OP contributors to the book include Richard B. Gaffin (Murray, G. Vos, Stonehouse, Young, W H. Green), Samuel T. Logan (OPC, Puritanism, G. Tennent, W. Tennent, Sr., J. Witherspoon), Peter Wallace (J. Thomson), Charles G. Dennison (M. Alexander, S. Craig), Harvie M. Conn (Van Til), L. John Van Til (Presuppositionalism), and Hart (Machen, O. T. Allis, H. Beets, S. Froeligh, J. Gloucester, S. Graham, T. Hastings, Hungarian Reformed Church in America, J. E. Kuizenga, F. L. Patton, Presbyterian Revivals, R. D. Wilson).
The value of this book lies in the quick summaries it provides for individuals who have been instrumental in the history of Presbyterian and Reformed denominations. As the only one-volume dictionary of Presbyterianism currently available, it would be a helpful addition to any library.