Reviews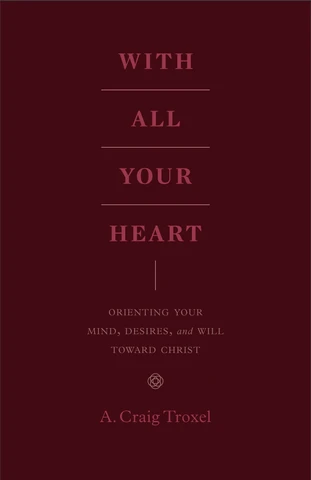 With All Your Heart: Orienting Your Mind, Desires, and Will Toward Christ
A. Craig Troxel
Reviewed by: John D. Van Meerbeke
Date posted: 08/09/2020
With All Your Heart: Orienting Your Mind, Desires, and Will Toward Christ, by A. Craig Troxel. Crossway, 2020. Paperback, 224 pages, $13.38. Reviewed by OP pastor John D. Van Meerbeke.
One may say, "My heart says one thing, but my brain says another." But Craig Troxel, professor of practical theology at Westminster Seminary California, gives the interested reader a better biblical understanding of the heart as the source of what we think and feel and say and do. Having served for twenty-four years as pastor of two churches, Troxel provides a generous and instructive study that will serve the church for years to come in studying Reformed spirituality, as devotional reading, and as a Sunday school text for young people and adults. Thirteen chapters are a useful convenience for a class quarter. The book divides into four parts, discussing the heart's mind (with Christ as Prophet), desires (with Christ as Priest), and will (with Christ as King), and concluding with the keeping of the heart and the Lord as our keeper (Psalm 121).
Early in the book, the author underscores the modern usage of the word "heart" in our language, providing plenty of examples of popular conceptions (and misconceptions), but also he lays the groundwork for his study by showing that the word occurs nearly a thousand times in sacred Scripture, enough to fill a two-hundred-page book worthy of your learning (17). Most pages have footnotes and an abundant supply of supportive Bible texts along with a liberal provision of references from authors like Augustine, Luther, Calvin, Owen, Edwards, Ryle, Lewis, and Keller. And the reader will be reminded throughout the book that the gospel of Jesus Christ is alive and well in the true heart, despite frequent discouragement. Only by God's sufficient grace are hearts purified. Thanks be to God! Troxel writes, "Christ's free grace renews us constantly through the driving force of the Word of God, the power of prayer, and the nourishment of the Lord's Supper, all of which is carried out by the Holy Spirit" (97). In his biblical, theological, and practical treatment of the heart, Troxel examines the real matters of the heart for Christians in all their painful struggles and sometimes surprising successes, stressing that God is our ultimate guard and keeper.
The book is very readable and accessible in its scope and detail. In all, the author is a generous writer. Looking up the Scripture references (and hymns) will only add to the depth and richness of the reading experience. There is a five-page general index of subjects and authors and a Scripture index with well over 1,500 entries.
Crossway has done us a favor in helping to produce this handy book. Those of us who have sat under Craig Troxel's teaching and preaching ministry will recognize good reading and good feeding in this highly recommended volume on the biblical anatomy of the heart, written from the heart, for the heart.