Reviews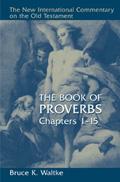 The Book of Proverbs: Chapters 1-15
Bruce K. Waltke
Reviewed by: Zachary R. Keele
Date posted: 10/01/2006
The Book of Proverbs: Chapters 1-15, by Bruce K. Waltke (New International Commentary on the Old Testament). Published by Eerdmans, 2004. Hardback, 693 pages, list price $50.00. Reviewed by Pastor Zachary R. Keele.
Bruce Waltke has written an excellent resource for studying the book of Proverbs. His commentary is erudite and technical, yet it takes into consideration larger theological and moral issues. Waltke writes, "The book of Proverbs remains the model of curriculum for humanity to learn how to live under God and before humankind. As a result, it beckons the church to diligent study and application" (p. xxi).
Waltke writes "to the pastor, student, and Bible lover" (p. xxiii) - "for the average Bible reader, not for the scholarly community" (p. xxiv). Nevertheless, it is a quite technical commentary. But that makes it valuable to the pastor. Waltke's sensitivity to the Hebrew and his emphasis on the poetics of Proverbs make this commentary valuable for preaching and studying the book.
In his introduction, Waltke deals with "critical issues of text, authorship, date and unity in addition to theological and philosophical reflections on the larger issues" (p. xxiii). His section on forms in Proverbs explains different poetic and literary devices, which is helpful for the average reader.
In the section "The Wise and Their Rewards: Life" (pp. 104-7), Waltke hints at the importance of eschatology in Proverbs. He states about the tree of life: "By including this metaphor with some prominence, the author makes it clear that until we reach the 'tree of life, which is in the paradise of God' (Rev. 2:7), we hold fast to the life-giving wisdom of the book of Proverbs and, more importantly, to Jesus Christ" (p. 260). It would have been nice, though, to see a separate section discussing the relationship between eschatology and the book of Proverbs. Furthermore, Waltke says very little about the relationship between Proverbs and the Mosaic economy, which is a crucial contextual factor in understanding the book. A more explicit handling of this issue would have been a valuable addition. Yet at nearly 700 pages for the first fifteen chapters of Proverbs, there are some matters that must be left to another day.
The commentary section includes translation, exegesis of each verse, and larger structural analysis. His footnotes on the translation are particularly helpful in dealing with textual-critical and grammatical issues. His comments are insightful, touching on issues from redaction to theology to moral application. He does a fine job elucidating the countless images and metaphors in Proverbs. Simply put, he does a fine job exegeting God's Word.
This commentary should be on the shelf of pastors and anyone else planning to study Proverbs. It is a long work, but do not let that deter you, for it contains a wealth of valuable information.
[Editor's note: Waltke's commentary on Proverbs 15-31 is now also available.]