Today in OPC History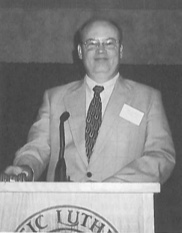 July 6
James Gidley
On this date Dr. James S. Gidley, ruling elder at Grace OPC in Sewickley, Pennsylvania, was elected as moderator of the Sixty-Seventh (2000) General Assembly meeting at Pacific Lutheran University in Tacoma, Washington. After receiving his PhD. in Engineering from Harvard University in 1981, Jim accepted a position at West Virginia University in Morgantown. There he and his wife, Betsy, joined the newly started Reformation OPC pastored by Larry Semel. In 1985, Jim was ordained as a ruling elder to serve on the original session of Reformation Church.
In 1990 Jim was named the Chairman of the Department of Engineering at Geneva College in Beaver Falls, Pennsylvania. With the move, Jim and Betsy, and their two sons, Jesse and Andrew, joined Grace OPC in Sewickley, where Jim continues to this day serving as a ruling elder. In 1990, Jim was also elected to the Committee on Christian Education, a body that he served as President from 2002 to 2019, the longest tenure of any president of the CCE in its history.
In addition to accomplishing the herculean task of leading the Geneva Engineering program to accreditation, Jim has written numerous articles in New Horizons and Ordained Servant, including "The Soul of Frankenstein" (Ordained Servant, Jun.-Jul. 2007), "James and Justification by Faith" (New Horizons, Feb. 2005), and "Engineering and the Wisdom of God" (New Horizons, Dec. 1990).
Picture: Jim Gidley on July 6, 2000 serving as moderator of the Sixty-Seventh GA.