Today in OPC History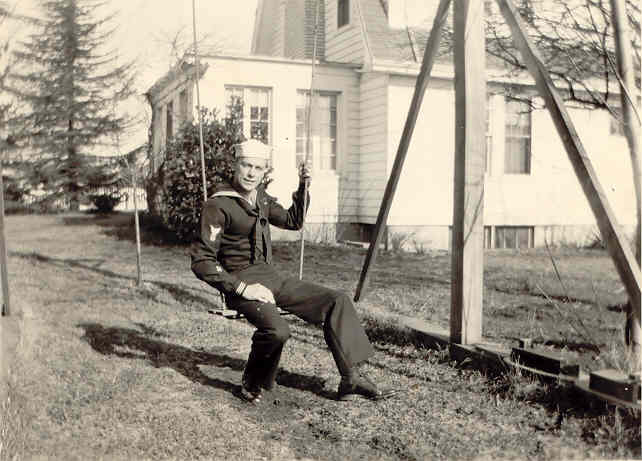 October 20
Leonard W. Schmurr
Leonard Schmurr returned home from navy service in WW II on October 20, 1945, to see his wife and three children actively involved in First OPC, Portland, Oregon. Lawrence Eyres had planted the church during the war and had graciously led Leonard's wife, Leone, to faith in Jesus. She urged Leonard to attend church with her his first Sunday home, but he chose to paint their house instead. However, he attended the next Sunday—and never stopped attending until his death 57 years later. He also had become a genuine Christ follower.
Leonard bonded with the men's group at church and soon helped to construct its first building. He arranged his police work schedule so that he could help lead outdoor activities for VBS children—all 160 of them. In following years, he taught SS, directed the choir, promoted church camp, and led services at an assisted-living facility and a rescue mission. He was elected elder within a few years and served for 40+ years. (He urged session meetings to adjourn by 11 pm, convinced that wise decision-making began to disappear after that hour.)
When their family had grown to eight, the couple found it hard to show hospitality to people. However, they always made room for visiting ministers, especially members of presbytery's home missions committee, of which Leonard was a member (he also served on the denomination's home mission committee for a term). And each summer they turned their yard into a picnic-recreation venue for the entire congregation to enjoy some good fellowship. Leonard may be best remembered as the one who stood outside the church's front door to welcome everyone (especially visitors) to worship. He explained that he wanted people to experience a gracious welcome as a prelude to hearing the gracious gospel in worship.
On February 3, 2002, Leonard died and went to be with the Lord in Glory.
Picture: Leonard Schmurr outside his parent's home upon his return from the war.
Copyright © 2020, The Orthodox Presbyterian Church. All Rights Reserved.