Reviews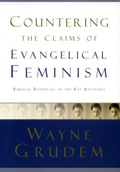 Countering the Claims of Evangelical Feminism
Wayne Grudem
Reviewed by: James W. Scott
Date posted: 01/06/2008
Countering the Claims of Evangelical Feminism, by Wayne Grudem. Published by Multnomah Publishers, 2006. Paperback, 284 pages, list price $14.99. Reviewed by James W. Scott, managing editor of New Horizons.
Wayne Grudem, research professor of Bible and theology at Phoenix Seminary in Scottsdale, Arizona, has for many years been the leading "complementarian" opponent of so-called evangelical feminism and egalitarianism. Perhaps the most important volumes on this subject have been Recovering Biblical Manhood and Womanhood, which he edited with John Piper (1991, updated in 2006), and Evangelical Feminism and Biblical Truth, which he wrote himself (2004). Both of these volumes should be in the library of every minister and other serious student of this subject. However, the latter volume is too massive (856 pages) for the average reader. Therefore, Grudem (with editorial assistance) has condensed that tome into the more accessible Countering the Claims of Evangelical Feminism. He also responds to some recent developments.
The shorter work still contains eleven parts and forty-five chapters! After two longer chapters of positive exposition of his general position, Grudem's remaining chapters offer short and pointed rebuttal of feminist arguments. He concludes with a look at the state of the controversy in current American evangelicalism and its future prospects. Unlike some writers on this issue, Grudem seeks to be irenic and fair-minded in his approach, yet without avoiding controversy. His discussion is clear and straightforward.
In my judgment, there are better interpretations than those he presents for Genesis 3: 16 (pp. 22-23), 1 Corinthians 11 (pp. 136-41, 202-7), and 1 Corinthians 14:33b-36 (pp. 41-43, 142-45). Also, I think that he accepts an overly expansive ecclesiastical leadership role for women (pp. 55-63, 258). Overall, however, I strongly recommend this book as an antidote for those who would like to think that evangelical feminism has some basis in Scripture. Grudem offers a remarkable survey of all the issues and does a good job of setting the record straight. But whether people will listen (his final chapter is poignant in this regard) is another matter.