Reviews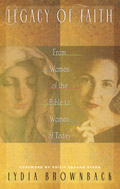 Legacy of Faith: From Women of the Bible to Women of Today
Lydia Brownback
Reviewed by: Holly B. Wilson
Date posted: 03/26/2006
Legacy of Faith: From Women of the Bible to Women of Today, by Lydia Brownback. Published by P&R, 2002. Paperback, 240 pages, list price $12.99. Reviewed by Holly B. Wilson.
Can Christian women today really relate to women who lived in Bible times.-.engagement rings on their noses, riding donkeys, drawing water from wells, some having to share their husband with other wives? In Legacy of Faith, Lydia Brownback shows that women today - while they may live in different surroundings, with different cultural trappings - face the same underlying issues with which women in the Bible struggled. This book addresses Christian women from a doctrinally sound, Reformed perspective.
Legacy of Faith takes a peek at twenty-four women found in the Bible, focusing on one specific characteristic of each. Brownback explains her purpose this way: "From each one we can learn about our relationship to God and how he uses the troubles and traits inherent to women to set us apart for himself" (p. xiv). I was impressed with the applicability of Brownback's exploration of each character. Her ability to focus on a heart issue that each woman faced is wonderfully helpful.
This book was written in fairly short chapters. They could be used for daily devotions or at longer devotional times (such as on the Lord's Day). I found that, for the sake of continuity, I preferred to read an entire chapter in one sitting. The chapters are self-contained, and so they can even be read out of order without losing anything.
The book would work well in a women's study group. A free study guide is available on the publisher's website; it can be downloaded at http://www.prpbooks.com/downloads/0875520049.pdf. The book would also work well in a one-on-one situation. If you're looking for a resource to help disciple a younger woman, it could be very helpful. It's relevant to women of all ages and in many different situations.
Lydia Brownback has a M.A.R. from Westminster Theological Seminary (Philadelphia), is deeply involved in women's ministries at Tenth Presbyterian Church in Philadelphia, and works for the Alliance of Confessing Evangelicals. I gather, from the glimpses that she shares about herself, that she practices in her own life what she "preaches." This gives punch to the lessons that are taught.