Reviews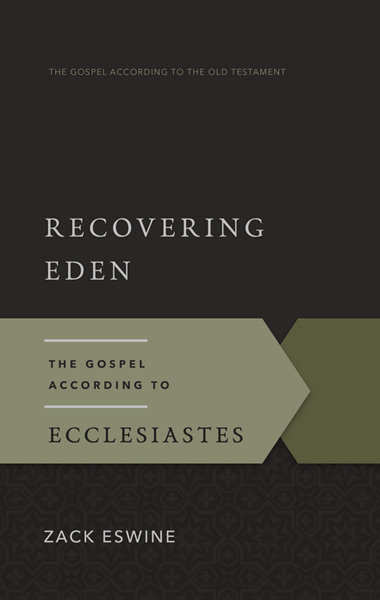 Recovering Eden: The Gospel according to Ecclesiastes
Zack Eswine
Reviewed by: Joseph W. Smith III
Date posted: 08/02/2015
Recovering Eden: The Gospel according to Ecclesiastes, by Zack Eswine. P&R, 2014. Paperback, 246 pages, list price $14.99. Reviewed by OP elder Joseph W. Smith III.
A few years ago, I taught Ecclesiastes in adult Sunday school. I sure wish I'd had Zack Eswine's book at that time. The latest in P&R's Gospel according to the Old Testament series, Recovering Eden, brings much wisdom to this thorny book.
Eswine posits that life in Eden offered a few simple pleasures—work, food, marriage, God—and that these remain our only worthwhile comforts. Everything else, as Solomon discovered—and as we rediscover in Eswine's fine work—is vanity. There is no true gain in any of the other activities we pursue for fulfillment.
Eswine is particularly strong in chapters 4–6, dealing with the futility of self-indulgence (Eccl. 2:1–11), how one can hate life without despairing (2:17, 24), and facing the inevitability of death.
His analysis sometimes sidesteps the plain sense of the text (as in 5:1–7), but this is more than counterbalanced by the way he shows that Ecclesiastes aligns itself with the rest of Scripture.
Time and again, Eswine makes brilliant connections between Ecclesiastes and other passages, such as Psalm 23, Matthew 6:19–21, Mark 8:36, and Acts 14:16–17.
He sees Christ in Solomon's anecdote about the poor wise man (9:14–15), and links the "time for everything" passage in Ecclesiastes 3 to Proverbs, Christ, and even the apostle Paul (Phil. 4:12–13).
I relished his handling of Solomon's leadership theme (here tied beautifully to Christ) of 7:14 (responding to success and adversity), and 7:28–29 (explaining Solomon's inability to find a wise woman).
Eswine's writing is occasionally awkward. (Sample sentence: "In this, an alternative way of life and neighbor love out of love for God in our given lot, gives testimony.")
But this is offset by some dazzling figurative language: "Church buildings sit abandoned in neighborhoods like a heart shape that two young lovers once carved into a tree." Some Christians talk too much, "as if their salvation resides in their ability to vacuum up every floor just by pushing their speech back and forth over it."
Fans of Ecclesiastes will surely want this excellent and helpful book.