Reviews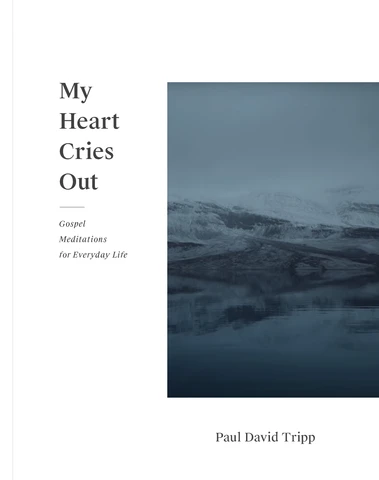 My Heart Cries Out: Gospel Meditations for Everyday Life
Paul David Tripp
Reviewed by: Mark A. Green
Date posted: 02/23/2020
My Heart Cries Out: Gospel Meditations for Everyday Life, by Paul David Tripp. Crossway, 2019. Paperback, 256 pages, $17.59 (Amazon). Reviewed by OP minister Mark A. Green.
The poet Wallace Stevens wrote, "One beats and beats for that which one believes," which is an apt description for this collection of meditations by Dr. Paul David Tripp. An influential author of more than thirty books, Tripp is known for his passionate communication of the gospel to audiences around the world. In this beautifully bound book by Crossway, he offers intense reflections on how our Lord attends to us in our deepest trials.
The author assures us in the preface that he knows and understands the conflicts of our journey. He writes for those battling the vicissitudes of this tellurian life with "celebratory hymns, disappointing cries, pleas for help, groans of confusion, shouts of joy, theological meditations, desperate requests, heartfelt confessions, hope for help in temptation, quiet contemplations, honest notes along the journey" (preface).
Entries in this collection average two pages each, convenient to accompany daily Bible reading. Tripp includes two other useful helps with each passage: a relevant Bible verse and questions for personal reflection.
Each reading includes descriptive titles. In "Beauty" we encounter an antidotal focus on our Lord's attributes when, in the midst of our struggles, we desperately need to have the eyes of our heart fixed not on ourselves but on our loving heavenly Father.
By grace all that you are,
you are for me.
So to fight my divine beauty
amnesia,
tomorrow once again in the quiet of the
early morning,
I will stop and gaze upon your beauty,
and I will
rest
Delightful, even mysterious, devotional titles beckon you into insightful passages for reflection. In "Spiritual Schizophrenia" there is a convicting clash of perspectives that reveals how differently we view our secret personal sins from the external failings of our neighbor we are called to love.
I must confess
that I so often look at others through the
lens of
the law,
while I want others to look at me through
the lens of
grace.
The final offering in this collection is "Forevermore," which hints at the famous lines in "The Raven" by Edgar Allen Poe. Poe's poem is laden with doubt and dreariness, told by a craven narrator speaking only of a shadowed hopeless sorrow. By contrast, "Forevermore" is full of hope. It is the great hope of the gospel, that particular hope that Christ is forming in us, a hope that pleases and glorifies him even as our hearts cry out:
your work in me and for me
will come to
completion,
and I will finally be
like you and
near you and
I will reign with you
forevermore!