Reviews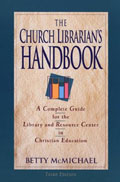 The Church Librarian's Handbook: A Complete Guide for the Library and Resource Center in Christian Education
Betty McMichael
Reviewed by: Jean Mosser
Date posted: 07/08/2007
The Church Librarian's Handbook: A Complete Guide for the Library and Resource Center in Christian Education, by Betty McMichael. Published by Baker, 1998 (3rd edition). Paperback, 320 pages, list price $17.99. Reviewed by Jean Mosser, a member of living Word Presbyterian Church in Pottstown, Pa.
This book is a useful reference tool for anyone who is thinking about starting a church library or enlarging an existing collection into a more inclusive resource center. As a resource center, this part of a church's ministry would include both print and nonprint materials (videos, CDs, tapes, maps, charts, and computer software). The center would then be open for use by the congregation and the neighborhood.
What about the small congregation that doesn't have space for a library room? The author relates the experiences of small congregations that have been able to circulate material from resource tables or even storage closets.
Suggestions of best locations in a building and staffing are taken from surveys the author conducted in both small and large facilities.
If you are thinking of organizing a collection for circulation, or adding a media center to a "book" library, this would be a worthwhile tool. The book is arranged in chapters, with a thorough index and four appendixes. This arrangement makes the book especially useful for someone who would like to know how to select material, prepare selections for circulation, or organize a library.
Reading this book chapter by chapter might get confusing. It is to be used as a handbook, a tool in which you can locate information on a specific subject.