Reviews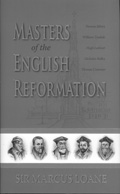 Masters of the English Reformation
Marcus Loane
Reviewed by: James Edward McGoldrick
Date posted: 10/28/2007
Masters of the English Reformation, by Marcus Loane. Published by Banner of Truth, 2005. Hardback, 310 pages, list price $28.00. Reviewed by James Edward McGoldrick, Professor of Church History at Greenville
Presbyterian Theological Seminary.
Marcus Loane, evangelical archbishop of Sydney, Australia, has produced a number of fine books, among which are outstanding biographies of pivotal figures in Protestant history. Masters of the English Reformation, which first appeared in 1954, is once again in print and in a handsome edition. It contains biographical essays on Thomas Bilney, William Tyndale, Hugh Latimer, Nicholas Ridley, and Thomas Cranmer, all of whom gave their lives for the cause of Christ. They proclaimed the gospel of pure grace and thereby provoked the hostility of both religious and civil authorities resolved to maintain medieval religion by all available means. Based upon thorough research in primary sources, this is a work of scholarship presented in a delightfully readable manner. Anyone with a serious interest in Christian history should be able to read this without difficulty, and those who love the Reformed faith should find these accounts of courage inspiring.
In an exciting way, Marcus Loane has related the conversion experiences of his subjects, identified their major contributions to the Reformation, and described the suffering they endured as the price for their faithfulness to the truth. These heroes of the faith were not by nature brave men, and some of them, when faced with the prospect of a painful execution, allowed their fears to intimidate them to the point that they betrayed Christ, as their tormentors demanded. But they all regained their courage and became faithful unto death, then to receive the crown of life from the Savior they loved. Loane's accounts of their spiritual struggles and eventual triumphs at the stake are graphic and deeply moving. The description of Thomas Cranmer is, in this regard, especially inspiring, and it makes one cry to God for such leaders today.
Masters of the English Reformation is a companion volume to Pioneers of the English Reformation, a work of equal value and one deserving of a reprint. Comfortable Christians, whose faithfulness costs very little, would do well to read both of these books and thereby gain an appreciation for the contributions of their forefathers. Loane has included ample documentation and bibliographic suggestions for those who wish to examine the English Reformation more deeply.