Reviews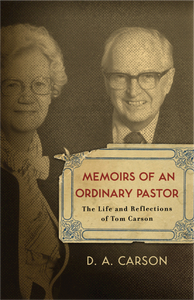 Memoirs of on Ordinary Pastor: The Life and Reflections of Tom Carson
D.A. Carson
Reviewed by: Ben Westerveld
Date posted: 10/26/2008
Memoirs of on Ordinary Pastor: The Life and Reflections of Tom Carson, by D. A. Carson. Published by Crossway Books, 2008. Paperback, 160 pages, list price $15.99. Reviewed by Ben Westerveld, OP missionary in Quebec.
If ever a book was written specifically for me, it is D. A. Carson's account of his father's ministry in Quebec, Canada. On several occasions, I was brought to tears as his testimony spurred me on to greater faithfulness.
A well-known Bible scholar, D. A. Carson provides us with a wonderful glimpse into the little-known life of his father, Baptist pastor Tom Carson. From the beginning of his ministerial training, Tom Carson felt called to work amongst the French speaking Quebecers, which he did from 1941 until his death in 1992.
The ministry of Tom Carson was not without its bleak moments, even prolonged despair. Referring to the more flamboyant ministries of other Baptist pastors in Quebec, Don Carson writes, "Never in our hearing, and certainly nut in his papers, did Tom express any jealousy of or malice toward other ministers who seemed to be eclipsing him, but whether he realized it or not the way was being paved to generate in him a feeling of inferiority which he would wrestle with for the rest of his life" (p. 68). But through the various trials associated with church planting in Quebec, and by constant meditation and fervent prayers, Tom's feeling of inferiority was slowly transformed into godly humility.
Why write this book about a relatively unknown pastor? Carson explains: "My aim is ... to convey enough of his ministry and his own thought that the ordinary ministers are encouraged, not least by the thought that the God of Augustine, Calvin, Spurgeon, and Piper, is no less the God of Tom Carson, and of you and me" (p. 11). To this end, these memoirs are a humbling and yet inspiring success.
I would encourage all pastors to read this book. The testimony of an ordinary, faithful servant of God will humble our souls, add a good dose of reality to our dreams, and realign our definition of a successful ministry. Tom Carson's testimony reminds each of us to persevere in the everyday ministry of feeding the Good Shepherd's flock, no matter how small their numbers.
Those who have an interest in the Lord's work amongst the French-speaking people of Quebec will greatly benefit from reading this book, as well. The reader should note, however, that the culture has changed significantly in Quebec. No longer do evangelical pastors face the harsh, orchestrated opposition of the Roman Catholic clergy. Neither are we witnessing the extraordinary work of the Spirit converting large numbers of lost souls, as Tom Carson witnessed during the early 1980s. Today the lukewarm faith of many evangelical believers and the indifference of a society pursuing la joie de vivre (the joy of living) call for much sowing, but one should expect little immediate reaping.
The testimony of Tom Carson spurs me on as I serve the Lord and his people in Quebec. I admire his determination not to abandon his mission to the French-speaking people of Quebec. The Lord provided him with employment (translating documents for the government of Canada), which enabled him to continue a tent making ministry in Hull. And after his retirement, Tom dedicated long hours volunteering to preach, provide pastoral care, train new ministers, and translate educational material. His commitment inspires me to continue serving the French-speaking souls of Quebec as long as the Lord gives me breath.
Tom Carson persevered in humbly serving the Lord to his last breath. He persisted in spiritual exercises in order to grow and progress in faithful obedience, particularly warring against the sins of old men (p. 144). With loving compassion, he provided for his wife as she descended into the depths of Alzheimer's. He preached his final sermon just six weeks before succumbing to pneumonia. In the same way, may the Lord preserve each ordinary pastor.