Reviews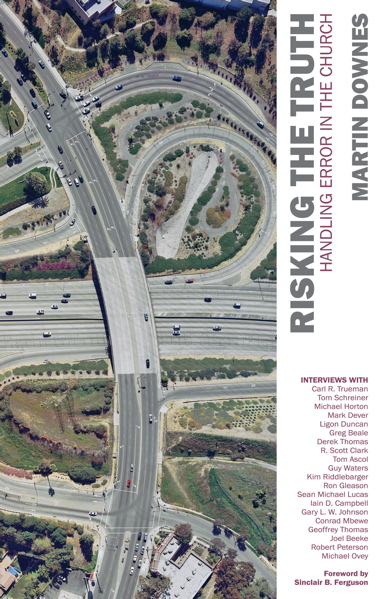 Risking the Truth: Handling Error in the Church
Martin Downes, Ed.
Reviewed by: Greg Hoadley
Date posted: 01/17/2010
Risking the Truth: Handling Error in the Church, edited by Martin Downes. Published by Christian Focus, 2009. Paperback, 192 pages, list price $14.99. Reviewed by OP licentiate Greg Hoadley.
No matter how valiantly we stand for the truth, the one constant in Christendom is heresy. This is the sad reality that the Church of Jesus Christ must confront in every generation.
To make matters worse, these false teachers are often in our very midst. They are the current and former colleagues, professors, students, and fellow session members of our pastors. With this in mind, what precautions should our pastors, sessions, presbyteries, and licentiates take to remain true to the historic Christian faith?
Martin Downes sets out to answer these questions in Risking the Truth: Handling Error in the Church. This volume is primarily targeted to pastors and young men aspiring to the gospel ministry, indicating how to wage war against heresy in both their personal lives and their public ministries.
In the first chapter, Downes presents a valuable introduction on the church's struggle with false teaching, and why so many leaders are susceptible to it. Following this, each of the twenty-one chapters features an in-depth interview with a contemporary Reformed pastor and/or theologian.
If there is an apparent weakness in this volume, it is that it often gets repetitive. Many of the interviewees have similar solutions for falling prey to heresy (i.e., be grounded in the Word, pray daily, be aware of the latest theological trends, etc.). However, this is only an apparent weakness; if these men do the same thing, shouldn't the rest of us follow their lead?
Carl Trueman's perspective on the dangers of pride in ministry is a must-read for prospective seminary students.
Ligon Duncan explains why so many churches are attracted to the New Perspective on Paul and the Federal Vision, and then offers succinct rebuttals to both.
Kim Riddlebarger tells why he left dispensationalism behind, and how to cogently yet lovingly present the Reformed alternative to its many adherents.
Finally, while many of the chapters provide practical helps for pastors on keeping their ministries Christ-centered, the interviews with Derek Thomas, Iain Campbell, and Tom Ascol are the most insightful.
While Risking the Truth should be read by church leaders, it is nonetheless written in easy-to-grasp style, and is therefore accessible to laymen as well. Because of its rich content and pastoral wisdom, it will encourage many church leaders to maintain the fight against heresy.