Reviews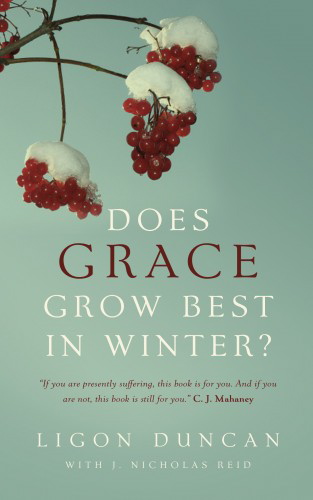 Does Grace Grow Best in Winter?
Ligon Duncan
Reviewed by: Brent C. Evans
Date posted: 04/11/2010
Does Grace Grow Best in Winter? by Ligon Duncan with J. Nicholas Reid. Published by P&R, 2009. Paperback, 87 pages, list price $9.99. Reviewed by OP pastor Brent C. Evans.
Romans 8:28 may be easy for many Christians to quote, but who among us finds it easy to discipline his mind with its truth? In Does Grace Grow Best in Winter? Ligon Duncan offers help by opening up the teaching of Scripture about God's purposes in suffering.
In addition to its readability and pastoral tone, there are several things that make this book valuable. First, it deals with a painful reality—suffering in the Christian life—that none of us can escape, but for which we are often poorly prepared.
Second, the author recognizes that, in order to respond to affliction in a way that honors God, we need to be equipped with wisdom far beyond what we have gained from our own experience. Duncan writes with the conviction that it is the wealth of God's written Word that will supply real, unerring help to suffering Christians. This short book uses texts from Genesis, Nehemiah, Job, Isaiah, Micah, the Gospels, and several New Testament epistles. Whether the reader is preparing for suffering, responding to suffering, or bearing the burdens of another, this book will strengthen his conviction that Scripture is designed to furnish him thoroughly for all good works.
Third, this book raises bracing questions that help us to avoid superficial responses to suffering: Do we hate sin as much as we hate suffering? Have we been lulled to sleep by the comforts that surround us? Are we determined to profit from each of our trials?
Fourth, this book drives us to Jesus Christ, the man of sorrows, the one who is acquainted with grief. The final chapter draws attention to Isaiah 53 and to the profound teaching of the book of Hebrews that Christ as our Mediator was made "perfect through suffering." If we are tempted to lose perspective on our own afflictions, then surely a major part of the remedy is to regain the biblical perspective on the place of Christ's sufferings in God's plan. We will forever adore a Savior who knew the bare, unrestrained wrath of God in order that we might never experience it (pp. 76–80). Hallelujah!