Reviews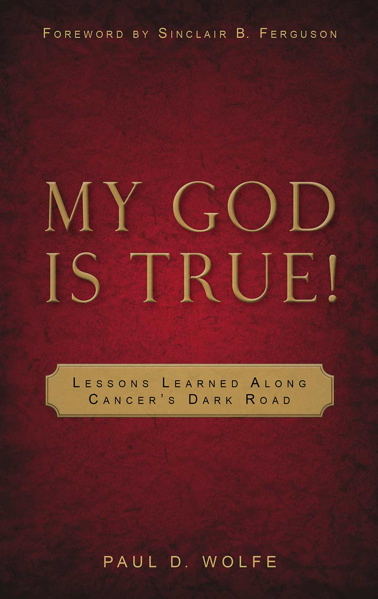 My God Is True! Lessons Learned along Cancer's Dark Road
Paul D. Wolfe
Reviewed by: Ryan M. McGraw
Date posted: 06/13/2010
My God is True! Lessons Learned along Cancer's Dark Road, by Paul D. Wolfe. Published by Banner of Truth, 2009. Paperback, 150 pages, list price $15.00. Reviewed by PCA pastor Ryan M. McGraw.
This book is a rare work that presents a realistic view of what it is like to struggle with (and recover from) cancer, written by a man who has received the comforts of a robust biblical and Reformed theology.
Paul Wolfe was only twenty-eight when he was diagnosed with cancer. He was also one month shy of his first wedding anniversary and a student at Westminster Theological Seminary. The book is divided into three sections, each having three chapters, with an introduction by Sinclair Ferguson. Each section begins by telling Wolfe's story, followed by two chapters of theological and practical reflection. The core of the book consists of a pastorally sensitive treatment of the sovereignty of God, the need to examine the heart in trials, and a sober exhortation to heavenly-mindedness.
A few samples of the spiritual wisdom in this book must suffice for this review. Wolfe notes that he is careful not to speak to people of God's faithfulness in healing him. The reason is that faithfulness implies fulfillment of a promise, whereas God has not promised any individuals that they will survive cancer or any other serious illness. Instead, Wolfe tells a story of unmerited grace. This helps us focus on what God has promised to us: that death will not be victorious over those who are in Christ.
By way of illustration, Wolfe tells the story of his mother-in-law, who died after a battle with cancer. God was no less faithful to her than he was to Wolfe, even though one died and the other lived. They both rested in the same promises and had the same hope of everlasting life (pp. 45–46).
Wolfe points to the long-term benefits of the preaching of the Word to prepare us for trials. We know from experience that not every sermon strikes us like a lightning bolt from heaven. However, the sermons we hear week by week may be designed by God to minister to us years down the road (pp. 97 ff.). This is a much-needed reminder of the necessity of consistently and diligently using the means of grace in the local church.
Lastly, ministry to those who have had cancer should not stop once they are free from the cancer. Even after cancer, people struggle with "presumption" that all will be well because they have already had their fill of suffering, "paralysis" through fear of the future, and "pouting" as a result of the trials that have come through healing (pp. 139–143).
This book is important, not only to cancer patients, but also to the families, friends, and fellow church members of cancer patients. It will provide you with nourishment to sustain you in your trials, as well as insight as to how to minister to those suffering around you.