Reviews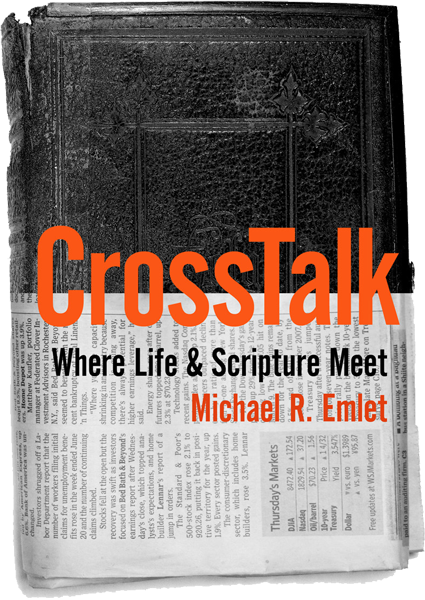 CrossTalk: Where Life and Scripture Meet
Michael R. Emlet
Reviewed by: Arthur J. Fox
Date posted: 09/12/2010
CrossTalk: Where Life and Scripture Meet, by Michael R. Emlet. Published by New Growth Press, 2009. Paperback, 224 pages, list price $15.99. Reviewed by OP pastor Arthur J. Fox.
To paraphrase 2 Kings 22:10, "Michael Emlet has given us a book." CrossTalk was written by Emlet, a Christian counselor, to teach us how to interpret each passage of Scripture in a way that remains faithful to its context and how to make solid, relevant application of it to daily life in a clear and practical way.
His thesis is simple. In seeking to counsel others, we tend to use familiar passages of Scripture that are short and to the point. So we go to Philippians 4:6 to deal with anxiety or James 4:1–3 to deal with conflict. Emlet calls these ditch passages—they are easy to read and apply, but are sometimes taken out of context. He recommends going to the canyon passages to find help for life, passages like the book of Esther (how to obey and trust God in danger) or Haggai 2:1–9 (resting in God's promises when things look bleak). It takes more work, but the canyon passages can be understood, in context, and real help for living can be found in them. He actually proves this from 1 Chronicles 1–9!
Emlet goes on to show us that the Bible is not primarily a book of dos and don'ts, though of course it contains them, or a book of timeless principles to help with problems, or a casebook of characters to imitate or not imitate. Nor is it, primarily, a book of doctrines. Emlet's point is that when we read the Bible looking for those things, we neglect its focus on the gospel. We neglect the truth that the Scriptures are God's story of his actions with regard to people, his people in particular, and especially how he took action through Christ to save his people.
Emlet urges us to read the Old Testament in light of the end of the story, Christ and the coming of the kingdom, and to read the New Testament in light of what came before it and what comes after it. Furthermore, we do not interpret Scripture rightly in isolation from the church, past and present. When we do these things, we are ready to read and apply the Bible as part of our life story and that of others. Chapter 6 puts it all together in a practical way, and chapters 7–10 give concrete examples.
This book will help you understand and apply the Bible to your life. Read it.