Reviews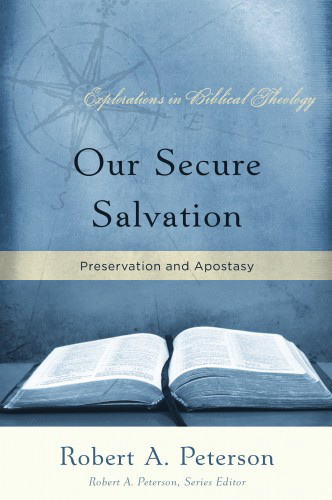 Our Secure Salvation: Preservation and Apostasy
Robert A. Peterson
Reviewed by: K. Dale Collison
Date posted: 08/07/2011
Our Secure Salvation: Preservation and Apostasy, by Robert A. Peterson. Published by P&R Publishing, 2009. Paperback, 240 pages, list price $14.99. Reviewed by OP pastor K. Dale Collison.
This book is part of the series Explorations in Biblical Theology, which "seeks to be solidly Reformed in orientation." In my opinion, this volume has succeeded in achieving this goal. It further states, "Writers desire not merely to dispense the Bible's good information, but also to apply that information to real needs today." Again, this book has met that goal.
The introduction to the series begins, "Believers today need quality literature that attracts them to good theology and builds them up in their faith," but then states that this book "is written for college seniors, seminarians, pastors, and thoughtful lay readers." This volume may be aimed at them, but I believe Peterson has gone further and written a book from which all in the church could profit greatly.
This book deals with two important questions: (1) Can you know you are saved? (2) Once you are saved, can you lose your salvation?
At the beginning of the book, Peterson uses some personal illustrations to help us understand the problem, but further personal illustrations are lacking in most of the book. (Perhaps this is due to the intended audience.) However, the book is filled with biblical passages that are used to teach us that our salvation is secure.
The author deals with two main issues: our preservation and the possibility of apostasy. In dealing with these truths, he uses both the Old Testament and the New Testament. He helps us to better understand those passages that are so dear and unravels some of those passages that have made us "scratch" our heads. He devotes a whole chapter to dealing with the troublesome passages in Hebrews 5:11–6:12 and 10:19–39.
Perhaps one weakness of the book is that Peterson goes through so many passages that he cannot give as much detail as he could have. And yet, if he had left out some of these passages, people might ask, "What about these verses?"
At the end of the book, there is a section of "Questions for Study and Reflection," which would aid in its use by study groups.
For those who struggle with the issue of assurance, or are wondering about someone who has turned his back on the church, here is a book that will give aid. My one suggestion is to make sure you have your Bible with you as you read this book, so you can follow along as Peterson teaches.