Reviews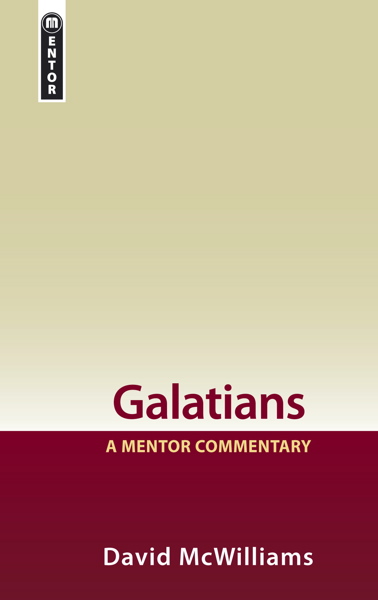 Galatians
David McWilliams
Reviewed by: Glen J. Clary
Date posted: 12/18/2011
Galatians, by David McWilliams. Published by Mentor, 2009. Hardback, 240 pages, list price $29.99. Reviewed by OP pastor Glen J. Clary.
Not all commentaries are created equal. Some are tedious and dry; others invigorate and inspire. Martin Luther's commentary on Galatians inspired a whole generation of Reformers to preach the gospel of free grace. Few modern commentaries have the potential to do the same. One rare exception, however, is this excellent commentary by David McWilliams, who is senior pastor of Covenant Presbyterian Church (PCA) in Lakeland, Florida.
Although Christians in a variety of callings may benefit from reading it, this book was written primarily to help ministers understand and preach Galatians. It is designed to be read straight through, and has an accessible format. Each chapter contains three sections (translation, summary, and comment). Citations from Galatians are in bold type, making them easy to locate. McWilliams undertook to write an exposition that would be "true, scholarly, and sound, thoroughly researched but that cuts out the extraneous, having the quality of brevitas" (p. 9), and in my judgment he succeeded.
Throughout the exposition, McWilliams highlights three main themes from Paul's letter. First, the gospel is not according to man. It is not contrived by man and, therefore, "may not be tampered with or altered to suit the designs of any party." Secondly, he emphasizes Paul's eschatology, particularly, his two-age construct. Christ came in "the fullness of time," says Paul, to deliver us "from this present evil age." Thirdly, he highlights Paul's doctrine of gratuitous and forensic justification, which is a matter, not merely of covenant membership and identity markers (ecclesiology), but of the eternal salvation of sinners (soteriology).
Although not essentially polemical, the book does refute certain doctrinal errors in modern Pauline scholarship. In the introduction, the author writes, "What follows is essentially a positive exposition of Galatians, [yet] I have kept in mind the various mischaracterizations of Paul's epistle that have become dominant recently in some circles. These new ideas profess that Paul is not concerned with the impossibility of good works and human merit for acceptance with God but rather is concerned principally with the condition on which Gentiles become members of God's people. … A correct understanding of Paul demands that we see that his primary concern is with the eternal salvation of sinners and that membership among God's people and ecclesiastical harmony are the fruit rather than the root of Paul's doctrine."
Paul's message of justifying righteousness can never be discussed and taught enough, said Luther. Christians are constantly tempted to turn away from trusting in the work of Christ and to rely on their own works for acceptance with God. Legalism did not die out with the Judaizers. It is a perennial threat to the church, and no Christian is immune to its leavening influence. Paul exclaimed, "You are severed from Christ—all you who are seeking justification through the law—you are fallen from grace!" Luther was right; justification by faith alone is the doctrine by which the church stands or falls. Luther's commentary on Galatians inspired a whole generation of Reformers to preach this doctrine. I pray that McWilliams's commentary will do the same in our day.