Reviews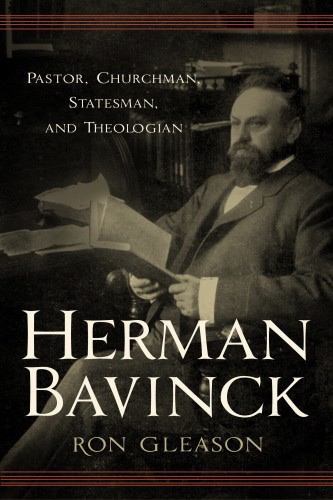 Herman Bavinck: Pastor, Churchman, Statesman, and Theologian
Ron Gleason
Reviewed by: J. V. Fesko
Date posted: 01/08/2012
Herman Bavinck: Pastor, Churchman, Statesman, and Theologian, by Ron Gleason. Published by P&R, 2010. Paperback, 511 pages, list price $29.99. Reviewed by professor and OP minister J. V. Fesko.
Herman Bavinck is one of the more important and best-known Reformed theologians of the twentieth century. The recent translation of his four-volume Reformed Dogmatics, plus other works, has given English-speaking students access to one of Reformed theology's greatest minds. But one of the crucial elements in understanding a person's thought is being familiar with his life. What and who shaped the man? With great joy we now have a very readable biography of Bavinck, so we can understand the man behind the Reformed Dogmatics.
Ron Gleason has written an excellent biography of Bavinck, based largely upon three twentieth-century biographies written in Dutch. Some of the fascinating details of Bavinck's life include the choices he made for his theological education. He studied at the University of Leiden, where he could learn liberal theology firsthand (p. 44). This helps to explain why Bavinck was so effective in refuting theological liberalism. Another interesting element that surfaces is Bavinck's relationship with Abraham Kuyper. Kuyper regularly appears in times of camaraderie and in times of conflict, such as the debate over baptismal regeneration, in which Bavinck opposed Kuyper (pp. 190–91). Readers will find many tantalizing details about Bavinck's life that Gleason has ably communicated.
I have a quibble with the lack of pictures in the book. Most biographies include pictures of family, of the subject, homes, offices, and the like. Readers can compare this work with the recent biography of Charles Hodge published by Oxford University Press, which includes not only a number of pictures, but also thumbnail sketches of the major figures mentioned in the book. Adding this type of artwork would have greatly enhanced the presentation of excellent content.
The major complaint I have is not with the author, but with the publisher. This major biography of Bavinck deserves a hardback with a sewn binding. Moreover, the paper has the feel of what one might find in pulp fiction. It does not have the feel (and hence the durability) of acid-free, archive-quality paper. Publishers send a message by the quality of the paper and the binding about the lasting importance of a book. This paperback edition will not last very long with heavy use. Granted, formatting decisions are often based upon financial constraints. However, this fine biography deserves a quality binding, one that will ensure that this book will be available to readers for generations to come.