Reviews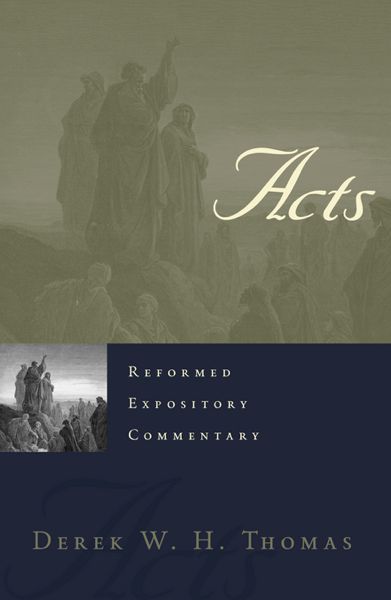 Acts
Derek W. H. Thomas
Reviewed by: Arthur J. Fox
Date posted: 04/08/2012
Acts, by Derek W. H. Thomas. Published by P&R Publishing, 2011. Hardback, 784 pages, list price $39.99. Reviewed by OP pastor Arthur J. Fox.
I was two-thirds of the way through a series of sermons on the book of Acts when this book came out. Therefore, my perspective is different than it might otherwise have been.
This book is part of the Reformed Expository Commentary, a set of commentaries edited by Richard Phillips and Philip Ryken. The commentaries are expository, usually (as in this case) based on sermons preached by the author.
This book is not difficult to read. It is quite accessible to anyone interested in learning about the way Christ built the early church after his ascension and how he continues to build his church today. Christ and the Holy Spirit are at the center of each chapter, and the reader will find himself challenged to pray for Christ's work to be as powerful today as it was back then and to become an active servant of Christ for the good of the church and the gathering in of the lost by the faithful proclamation of the gospel.
It is easy to follow Thomas's explanations of the history and literature relevant to the times. References to Jewish traditions, secular histories and poetry, and other religions of that day abound in this book and help make clear what challenges the gospel faced. In addition, Thomas makes it very clear that we face many of the same challenges. This book is full of practical application!
The preacher who reads this book would do well to heed Thomas's comment on page 44: "Peter, then, provides us with a model of what preaching is: exposition of God's written Word with a view to applying it to the present and preparing us for the future. Such preaching has God's blessing upon it."
The reader who wants to understand theology will find the complex made simple. Such concepts as the already—not yet aspect of the work of Christ, the need never to separate the work of the Holy Spirit from the work of Christ, and the importance of suffering for the growth of the church are all presented simply and clearly. The reader will also find himself drawn with affection to Peter, Paul, and the other prominent men who appear in this biblical history of the early church.
All Christians have much to gain from a careful reading of this book. It has helped me better understand how to preach simply and clearly without sacrificing depth. This is a "good read."