Reviews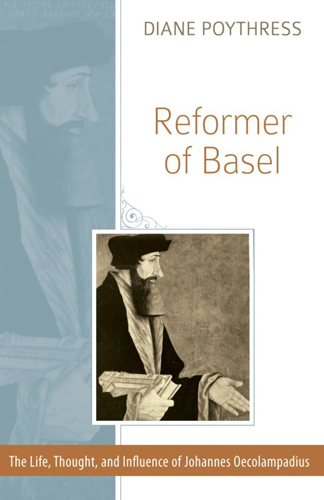 Reformer of Basel: The Life, Thought, and Influence of Johannes Oecolampadius
Diane Poythress
Reviewed by: Brian De Jong
Date posted: 07/01/2012
Reformer of Basel: The Life, Thought, and Influence of Johannes Oecolampadius, by Diane Poythress. Published by Reformation Heritage Books, 2011. Paperback, 230 pages, list price $25.00. Reviewed by OP pastor Brian De Jong.
At first glance, one might assume that sixteen flyleaf recommendations from scholars representing fifteen seminaries and Bible colleges would constitute overkill. But after reading Diane Poythress's book on Johannes Oecolampadius, I conclude that those professors didn't say nearly enough to commend this excellent volume.
The name Oecolampadius is as unknown to most people as it is difficult to pronounce. Who was this man? Why have we never heard of him? The obscurity of this early Reformer is due, in part, to the fact that his works have not been translated into English. Furthermore, he is certainly overshadowed by Martin Luther and John Calvin—both of whom he influenced to one degree or another.
Poythress has done the Christian world a distinct service by providing us with an engaging biography of this forgotten forerunner of the Reformation. Between 1482 and 1531, this bright comet illuminated the slumbering church in Europe. The story of his life is itself stirring and provides ample insights into those very early years of change in Europe.
His ministry in Basel lasted only eight years, yet it was fruitful almost beyond belief. His teaching, his writing, his pastoral ministry, and his groundbreaking theological work were amazing. Sadly, for the most part, his work has never been rendered into English. As a treat, Poythress provides her own translation of portions of his commentary on Isaiah in an appendix. She deliberately seeks to prime the pump by encouraging other translators to focus on Oecolampadius.
The book is divided into five chapters, the first of which focuses on his life story. Then she examines his colleagues in the kingdom—showing how he influenced other Reformers.
The third chapter concentrates on the exegesis and hermeneutics of scriptural studies. Next she traces various doctrinal issues and shows how they impacted the ongoing work of renewal. The final chapter is about his labors as an author.
The book is a pleasant blend of biography, history, exegesis, and theology. It informs the mind, but also challenges the heart. The book is a thoroughly readable introduction to a long-lost father in the faith.