Reviews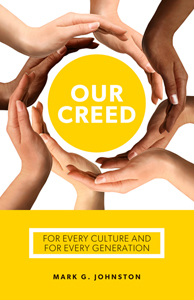 Our Creed: For Every Culture and Every Generation
Mark G. Johnston
Reviewed by: Calvin D. Keller
Date posted: 04/21/2013
Our Creed: For Every Culture and Every Generation, by Mark G. Johnston. Published by P&R, 2012. Paperback, 124 pages, list price $11.99. Reviewed by OP pastor Calvin D. Keller.
In an age when creeds are considered irrelevant, Our Creed is a welcome resource for teaching the faith once for all passed down to us. Our Creed is an overview of the biblical faith as expressed in the Apostles' Creed. As such, it is an excellent tool for teaching biblical doctrine. Mark Johnston shows us the relevance of this ancient creed in a refreshing way, with an excellent use of Scripture throughout. He explains, "The creed's brevity should not be mistaken for paucity. Each clause is in a very real sense the distilled essence of a truth that is much broader and deeper than it appears on the surface" (p. 113).
This book is a great antidote to the modern evangelical focus on personal experience at the expense of Christian truth. The opening chapter, entitled "Who Needs a Creed?" is a defense of creeds in general and the Apostles' Creed in particular. The following chapters then move through the confessional statements, beginning with the doctrines of God and Christ and working through the accomplishment of salvation and the goal of all things in Christ's final coming. Johnston writes, "Therein lies the logic of the creed. It tells us about God—who he is, what he is like, and all he has done through Christ—and then it tells us about ourselves and what it means to receive his salvation" (p. 110).
I was particularly impressed by the fourth chapter, entitled "He Descended into Hell." Here Johnston discusses the most controversial phrase of the ancient creed. He agrees with John Calvin that these words are really "a summary of the two clauses about the death of Christ that precede them" (p. 53). Using relevant Scripture, Johnson proceeds to develop a biblical theology of the cross and shows how this phrase is "the starkest and yet most accurate way of summing up what happened on the cross that there is" (p. 58).
Our Creed is more than a simple exposition of the Apostles' Creed. Johnston provides rich biblical teaching in the study questions that follow each chapter. This is the strength of the book. The questions and Scripture passages are well chosen and very helpful.
It would have been good to have a bit more discussion of the history of the creed, its use in church history, and its origin. Nevertheless, this book has renewed my appreciation of the Apostles' Creed. This book is a useful resource for Christian education, and I hope to use it in a Bible study at our church in the near future.