Reviews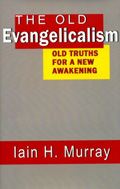 The Old Evangelicalism
Iain H. Murray
Reviewed by: Mark R. Brown
Date posted: 08/13/2006
The Old Evangelicalism, by lain H. Murray. Published by Banner of Truth Trust, 2005. Hardback, 226 pages, list price $22.99. Reviewed by Pastor Mark R. Brown.
This book may be regarded as the capstone of a trilogy on the theme "The old is better," following Revival and Revivalism and Evangelicalism Divided (1950- 2000). It offers a collection of conference addresses that promote the doctrines and emphases of the older Calvinistic evangelicalism. In fact, this book elaborates on the theme of The Forgotten Spurgeon, by Murray, and Today's Gospel, by Chantry - books that introduced me to the old paths when I was a naive Billy Graham evangelical as a teenager.
Orthodox Presbyterian pastors and people in the pew should read this book to sharpen their understanding of Calvinism compared with the approach of the new evangelicalism. The chapter on "Christ Our Righteousness" reminds us that there is no truth that we should value more than the doctrine of Christ's imputed righteousness - his doing and dying in our place.
However, the chapters on "John Wesley" and "Christian Unity" will prompt Orthodox Presbyterians to stretch their thinking. Can we really learn anything from John Wesley? Murray thinks we can profit from his emphasis on the love of God in Christ to lost sinners.
The chapter on church unity will probably bring out the most discussion in OP circles. Murray sees Christian unity beyond that of external denominational mergers. He is not opposed to denominations, but worries that fidelity to Christ comes to be identified too much with denominational loyalty. He favors a wider Christian unity and cooperation in agencies for missions, literature, etc. A well-known example of this would be the Banner of Truth Trust, which is supported by Anglicans, Presbyterians, Baptists, and Congregationalists.
In sum, there is much to challenge and stimulate us to godliness in this volume. I thank God for lain Murray's fifty years of service to the church and the influence of his books for posterity.