Reviews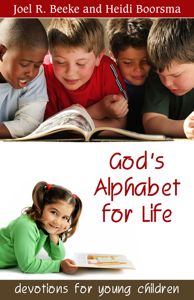 God's Alphabet for Life
Joel R. Beeke and Heidi Boorsma
Reviewed by: Cara Reynolds
Date posted: 03/18/2012
God's Alphabet for Life, by Joel R. Beeke and Heidi Boorsma. Published by Reformation Heritage Books, 2009. Paperback, 80 pages, list price $8.00. Reviewed by Cara Reynolds, a member of Park Hill OPC in Denver, Colo.
While God's Word is the best devotional reading, it is helpful to supplement the Bible with devotionals like God's Alphabet for Life, by Joel R. Beeke and Heidi Boorsma. This book, subtitled "Devotions for Young Children," is easy and fun to read, either for family devotions or for an elementary-aged reader. The chapters are generally short, suitable for the shorter attention span of young children. Many of the chapters are excellent for sparking family discussions about God and his work of salvation through Jesus Christ and the impact that has on our daily lives.
The authors have done a wonderful job of explaining complex ideas. Their use of elementary analogies is also helpful. For example, they compare trying to see yourself in a mirror in a dark room versus in a lighted room, in order to compare the dark, unconverted heart to the new heart enlightened by the Holy Spirit.
Occasionally the authors take a surprising turn to explain a Bible verse. For example, in "Even a child is known by his doings," the authors use King Solomon's response to God's command, "Ask what I shall give thee," to flesh out the meaning of the verse. In only one place did we struggle with the KJV: for the verse "Quit you like men, be strong" (1 Cor. 16:13). Even though the authors rewrote the verse in modern English, we compared a couple of different translations.
Our family enjoyed and benefitted from God's Alphabet for Life. We recommend it to families with young children.