Reviews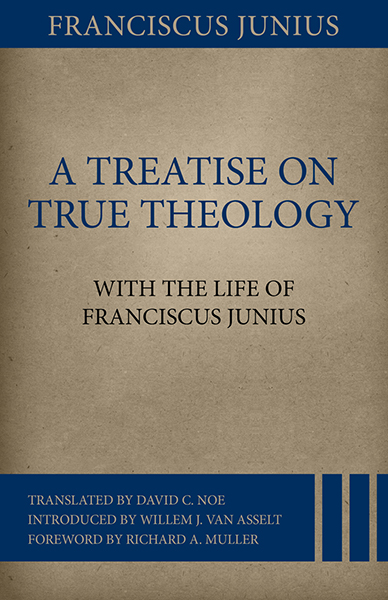 A Treatise on True Theology: With the Life of Franciscus Junius
Franciscus Junius
Reviewed by: David VanDrunen
Date posted: 06/05/2016
A Treatise on True Theology: With the Life of Franciscus Junius, by Franciscus Junius, translated by David C. Noe. Reformation Heritage Books, 2014. Hardback, 247 pages, list price $40.00. Reviewed by OP minister and professor David VanDrunen.
This volume consists of an English translation of A Treatise on True Theology, written by early Reformed theologian Franciscus Junius (1545–1602), preceded by a translation of Junius's autobiography and an introduction by the late Willem van Asselt, an eminent Reformed historical theologian.
Translator David Noe has provided the Reformed community with a valuable service. Junius was quite an important Reformed theologian, and many later Reformed luminaries embraced his understanding of the nature of theology as explained in this Treatise. Yet in recent years most Reformed theologians have been only vaguely aware of Junius's work, and most Reformed believers have been completely unaware of his existence. Junius's autobiography alone almost makes the book worthwhile. Written about ten years before he died of the Black Death, it recounts a life story that makes the experience of almost every contemporary Reformed pastor and theologian seem dull by comparison. Junius's frank recollections of his family life (a mob murdered his father, a prominent French civil official), education, temptations, self-deprivation, persecution as a Protestant, and ministerial labors display a piety, discipline, and love of learning that should be an inspiration for us today.
Ordinary readers will find the autobiography interesting and easy to read, but the Treatise itself requires slow and careful reading that those without a good theological education may find difficult. The translator, however, has provided many helpful footnotes that explain not only some of his translation decisions but also a number of Junius's obscure words and references.
The Treatise is organized around thirty-nine theses answering the question, What is theology? The question is important. Disputes between the Reformed tradition and other traditions revolve not only around different views of sin, salvation, the church, etc., but also around different views of theology itself.
I have space to mention only a few highlights of the Treatise. Junius says that true theology is divided into the archetypal (the wisdom of God himself) and the ectypal (the wisdom finite creatures have about God). Junius goes on to distinguish different forms of ectypal theology, including that communicated to Christ as the God-Man, that of the angels and saints in heaven, and that of revelation communicated to human beings here and now (which he calls "our theology"). He divides revealed theology, furthermore, into natural and supernatural. Another important distinction is between our theology stated absolutely and stated relatively. The former refers to the wisdom of divine matters sealed infallibly in Scripture through the prophets and apostles, while the latter refers to theology as present imperfectly in us. It is in this latter sense that we may be called theologians.
While readers may wish to engage Junius critically at one point or another, this is an illuminating book that enriches our understanding of classic Reformed theology and promises to sharpen our own views of what theology is. If nothing else, the Treatise encourages both a confidence that our theology probes the truth about God and a humility about the limits of our knowledge in this present age.