Reviews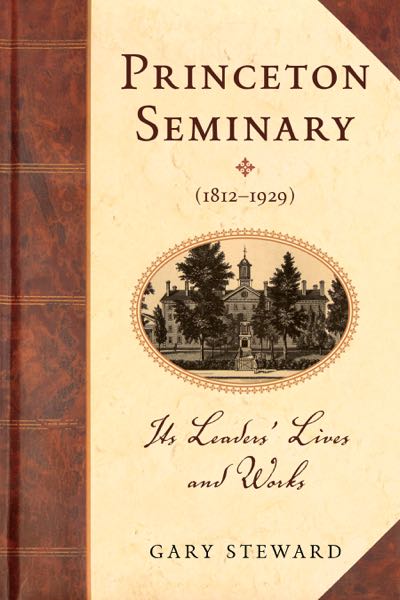 Princeton Seminary (1812–1929): The Leaders' Lives and Works
Gary Steward
Reviewed by: Barry Waugh
Date posted: 01/01/2017
Princeton Seminary (1812–1929): The Leaders' Lives and Works, by Gary Steward. P&R, 2014. Paperback, 321 pages, list price $15.99. Reviewed by Barry Waugh, a historian in the PCA.
This volume is an addition to the Guided Tour Series of books on church history published in recent years by P&R Publishing. Steward's book provides a handy and accessible account of some of the key Princeton personalities and their works within the period delimited by its title. Portraits provide faces for names, and other photographs show places and writings. Time lines are included, listing key dates in the subjects' lives. A bibliography and an index are also provided.
Following the opening chapter on the founding of Princeton Seminary, Steward provides biographies of selected professors, each of which is followed by a chapter discussing one or more of his works. For example, chapter 2 is about Princeton's founding professor, Archibald Alexander; then chapter 3 discusses his book, Thoughts on Religious Experience. The pattern continues for Samuel Miller and Charles Hodge, but the biographies of James W. Alexander and his brother "Addison" are presented in a single chapter that is followed only by a summary of a work by J. W. Alexander, and the next biography is about A. A. Hodge. The last chapter, which is titled "Old Princeton, Past, Present and Future," is a summary of select seminary faculty from A. A. Hodge's death in 1886 until the division of 1929. Thus, C. W. Hodge, the more than thirty years of B. B. Warfield's teaching, the seminary reorganization, and J. Gresham Machen and the founding of Westminster Seminary are addressed in about seventeen pages.
The book could have been improved with a more equally distributed presentation of its subjects. For example, J. W. Alexander taught on the seminary faculty for only two years, so at least with regard to his tenure, he was not a leader. Warfield's voluminous work provided an anchor in the stormy theological sea of his era, so a fuller presentation of his life and influence is needed. The importance of Machen for confronting the transitions at Princeton in his day could also have been more fully addressed. Warfield's defense of the doctrine of inspiration is mentioned, but his writings on the subject warrant a summary chapter, and Machen's Christianity and Liberalism, also mentioned by the author, could have been summarized as were the works of the other biographical subjects.
Steward's book provides a good, readable summary and overview of some of the people and influences in Princeton Seminary. Despite its abbreviation of the last decades of its period, anyone desiring to learn more about the seminary would find the book informative. For the years after A. A. Hodge, Gary Johnson's book, B. B. Warfield: Essays on his Life and Thought, is helpful, and hopefully before too long Brad Gundlach's biography of Warfield will be available. With regard to the Machen era, D. G. Hart's Defending the Faith and Stephen Nichol's book J. Gresham Machen in the Guided Tour Series are both good reads.