Reviews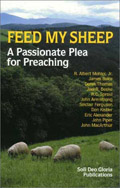 Feed My Sheep: A Passionate Plea for Preaching
Don Kistler, Ed.
Reviewed by: Larry Wilson
Date posted: 06/18/2006
Feed My Sheep: A Passionate Plea for Preaching, edited by Don Kistler. Published by Soli Deo Gloria, 2002. Paperback, 285 pages, list price $14.95. Reviewed by editor Larry Wilson.
Feed My Sheep definitely is a passionate plea for preaching, but it is more; it is a model of good preaching. Its eleven chapters are basically robust, expository sermons on the importance of preaching and on what constitutes good preaching.
The essays address the priority of preaching (Al Mohler), the foolishness of preaching (Jim Boice), expository preaching (Derek Thomas), experiential preaching (Joel Beeke), instructive preaching (R. C. Sproul), preaching to the mind (John Armstrong), preaching to the heart (Sinclair Ferguson), authority and preaching (Don Kistler), evangelistic preaching (Eric Alexander), suffering and preaching (John Piper), and weakness and unworthiness and preaching (John MacArthur). Each essay is good. Some are outstanding. All are searching (I found myself repeatedly convicted of sins of unbelief and omission, and at the same time encouraged).
My edition has a frustrating error between pages 238 and 240: some of the text is missing. I also regret that there is no Scripture (or any other) index. Still and all, these complaints are minor. This book is "must reading" for pastors, for those aspiring to preach, for elders, for pulpit committees, and for anyone else who wants to see what the Scriptures say about God's prescription for building up believers, growing churches, and evangelizing the lost. Be warned, however: this book does step on toes! Highly recommended.