Reviews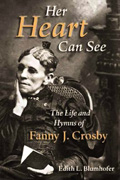 Her Heart Can See: The Life and Hymns of Fanny J. Crosby
Edith L. Blumhofer
Reviewed by: Timothy Roden
Date posted: 10/29/2006
Her Heart Can See: The Life and Hymns of Fanny J Crosby; by Edith L. BIumhofer. Published by Eerdmans, 2005. Paperback, 365 pages, list price $20.00. Reviewed by Prof. Timothy Roden.
Many who read biographies of famous hymn writers desire to understand the experiences that inspired specific texts. While this book is an excellent study of Fanny Crosby, those looking for such stories will be frustrated since Blumhofer virtually ignores them, giving at most a sentence or two about when and for whom they were written. (The author states that Crosby recalled many of these incidents in her three autobiographies.) Those who are interested in Crosby herself, however, will find this biography a rich source of information, not only about her, but also about the world in which she lived. Her life spanned an era that encompassed remarkable changes in the social and religious life of the United States. When she was born in 1820, Adams and Jefferson were still corresponding; at her death in 1915, Wilson was president and Eisenhower was a cadet at West Point.
Blumhofer, a history professor at Wheaton College, organized this biography in a topical format. Almost all the chapters provide an amazing depth of background material. For example, the first chapter relates the story of New England Puritanism as experienced by Crosby's ancestors. Large sections or even entire chapters discuss such topics as urban life in nineteenth-century New York, the history of educating the blind, music publishing in nineteenth-century America, and the lives of contemporary hymn writers. Such organization occasionally creates some chronological confusion, and there are large sections where Crosby virtually disappears from the narrative. Yet when she returns to the narrative, it is with a richer understanding of the nation and city in which Crosby lived, the people she encountered, and the churches in which she (a Methodist) worshiped.
As a young woman, Crosby displayed a remarkable gift for poetry, so Blumhofer includes a substantial number of her early lyrics, especially those composed for dignitaries visiting the New York School for the Blind. It was not until the end of the Civil War, however, when she turned to writing hymns, that Crosby's reputation grew from being a blind poet (serving as an advocate for state funding of education for the physically handicapped) to one who verbalized the spiritual heart of the nation. Blumhofer has written an interesting chapter summarizing the major themes and theology of Crosby's texts. This is appropriate, since it is her poems, and not the stories behind them, that have touched the hearts of millions.
This book is well written, but it is not intended for those who desire an easy-to-read, inspirational biography. For those who have a solid grasp of American history, and desire to expand their awareness of the country's religious history during the nineteenth century, Blumhofer's biography will be enlightening.